Aquaculture is a relevant productive sector with great potential worldwide. It plays a significant and growing role in food provision, nutrition, and employment generation. Colombia has great advantages for the sector develoment and its privileged location between the Pacific and Atlantic Oceans facilitates connection with the main markets of America and other continents.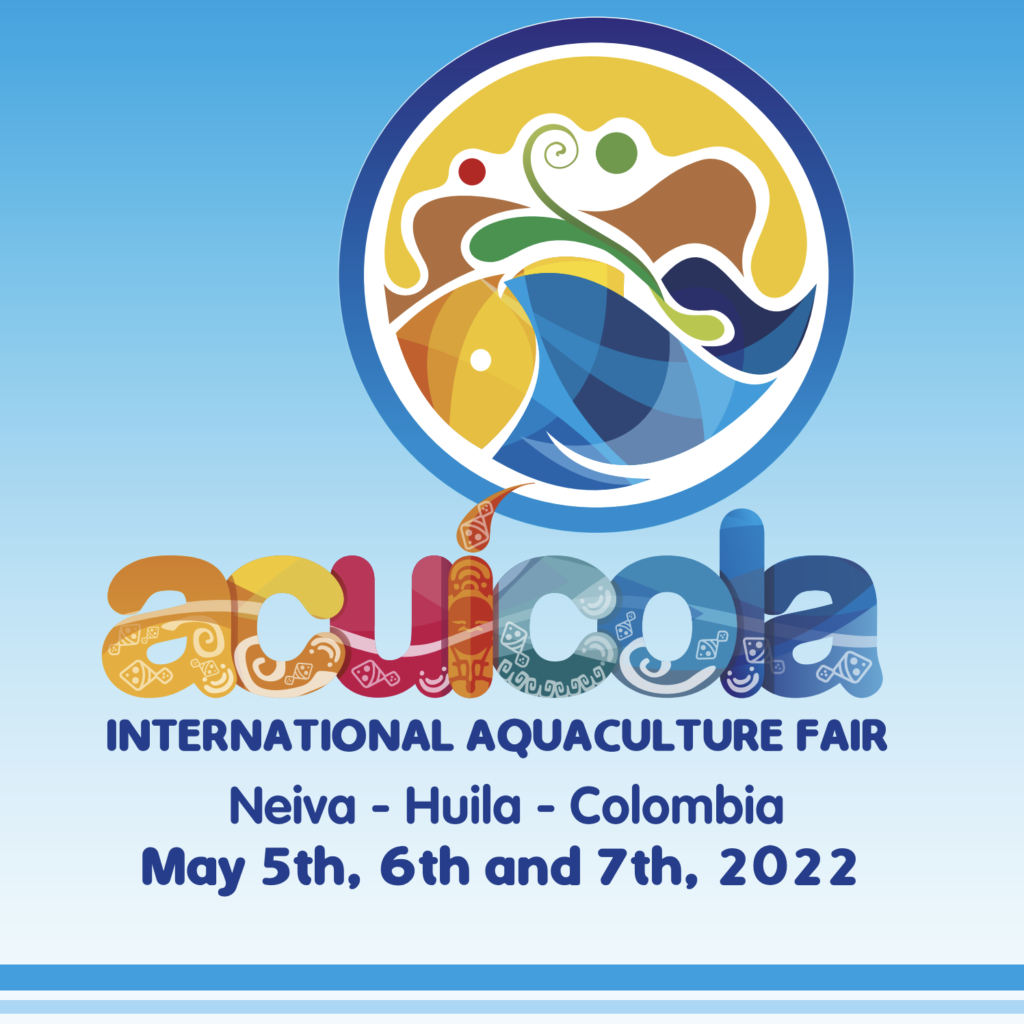 The commitment of the local Government of Huila in Colombia, the privat sector, national and international entities, agents of the aquaculture value chain has progressed in accomplishing market requirements by strengthening quality. Therefore, Huila has positioned itself as the principal fish producer in Colombia for 2020, ranking first in exports of fresh tilapia to markets such as the United States.
The First International Aquaculture Fair will be a space for the meeting of buyers and sellers, marketing, and exchange of technical knowledge and productive methodologies. Along with, the gastronomic and cultural exhibition, visitors can get to know first-hand the unique characteristics of the Department of Huila as a key region for Colombian fish farming.
The Institutional component of the fair has opened a space for CNCC to organize "Norway Day" as a partial substitution of the summit initially suggested under their strategic partnership project with Norad, Caritas, Pharmaq/Zoetis, and Piscícola Botero. Click here to see the page and program for "Norway Day".
Program
Thursday, May 5th
8:00 A.M. – 5:30 P.M. ACADEMIC AGENDA
"The Impact of Institutions on the Development of Aquaculture in Colombia"
"Norway Day – Fish for Development Program Colombia"
FISH HEALTH
PARALLEL EVENT: Norway-Colombia Aquaculture Cooperation Seminar: Enabling Institutions.
VENUE: José Eustacio Rivera Convention Center
8:00 A.M – 8:00 P.M. EXHIBITION
VENUE: La Vorágine Fair Grounds
5:30 P.M. Opening Event "First International Aquaculture Fair Neiva – Huila – Colombia
(Governor of Huila and special guests)
VENUE: Plazoleta La Vorágine Fair Grounds
Friday, May 6th
8:00 A.M – 6:00 P.M ACADEMIC AGENDA
SUSTAINABILITY.
PRODUCTION/NEW TECHNOLOGIES
GENETICS
VENUE: José Eustacio Rivera Convention Center
8:00 A.M. – 8:00 P.M. EXHIBITION
VENUE: La Vorágine Fair Grounds
8:00 A.M. – 6:00 P.M. CULTURAL EXHIBITION
VENUE: Plazoleta La Vorágine Fair Grounds
Saturday, May 7th
8:00 A.M. – 8:00 P.M. EXHIBITION
VENUE: La Vorágine Fair Grounds
8:00 A.M. – 6:00 P.M. CULTURAL EXHIBITION
VENUE: Plazoleta La Vorágine Fair Grounds
Speakers
FISH & HEALTH
ESTEBAN SOTO – UNITED STATES
PAOLA BARATO – COLOMBIA
GUSTAVO ADOLFO BERMUDEZ – COLOMBIA
WIN SURACHETPONG – THAILAND
CLAUDIA MAIRA/ANDRES HENAO – NORWAY
GENETICS:
HIDEYOSHI SEGOVIA – UNITED STATES/NORWAY
TIAGO FERNANDEZ – BRAZIL
MAURICIO CARRILLO – COLOMBIA
SUSTAINABILITY
CARLOS MARIO RAMIREZ – COLOMBIA
MARCELA SALAZAR – NORWAY
JOSEF RASINGER – NORWAY
HECTOR DAVID CALDERON – COLOMBIA
NINA LILAND – NORWAY
PRODUCTION/NEW TECHNOLOGIES
JAIRO AMEZQUITA – COLOMBIA
LUIZ HENRIQUE VILAÇA – BRAZIL
Norwegian delegation
Claudia Maira
Chilean-Norwegian veterinarian with more than 30 years experience in aquaculture as field veterinarian, veterinary officer, and the last 22 years at Pharmaq, part of Zoetis. I am been focused on Fish Health Management and production of several farmed species, including salmonids, cod, turbot, sea bass, sea bream and tilapia in different regions of the world. Current position is Senior Clinical Scientist, Technical Support Manager for the Mediterranean region and Latin America.
---
Andres Henao
Zootechnical Veterinary Doctor – University of Caldas, with more than 14 years of experience in the aquaculture sector, in the area of ​​nutrition, health and development of the vaccination program in Colombia. Since 2018, dedicated to the development of the vaccination program at the national level with American Veterinaria Ltda, from 2020, Technical-Commercial Advisor for Aquaculture Colombia, Mexico and CAMCAR for Zoetis.
---
Marcela Salazar
Dr. Marcela Salazar, is a surgeon from the Javeriana University in Colombia, and has worked on genetic improvement and disease resistance in P vannamei for 20 years. She was scientific director of CENIACUA from 2001-2016 and now has the same position at Benchmark Genetics Colombia. Since 2020 she is the chair of the Benchmark plc Animal Welfare Committee.
---
Josef Rasinger
Dr Rasinger is a senior researcher at the Norwegian Institute of Marine Research. His research focuses on the development and implementation of molecular (omics), biostatistical and bioinformatics tools for use in food and feed safety, and aquaculture research. Dr. Rasinger contributed to several ISI-listed peer review papers, reports, book chapters, and presentations at national and international conferences.
In addition, Dr. Rasinger has been collaborating with researchers from Colombian institutions such as La Universidad Nacional (Sede Bogota) and La Universidad de Los Andes for several years. With colleagues from the German Federal Institute for Risk Assessment (BfR) and La Universidad Nacional, in 2021, he contributed to secure funding for a collaborative research project on circular economic systems using insects as feed for sustainable aquaculture.
Dr. Rasinger's presentation will also include Dr. Rita Hannisdal's work in relation to Norway's contribution to the "Global Action Network", a Norwegian global initiative with an impact on the sector.
---
Nina Sylvia Liland
Dr. Nina Sylvia Liland is a researcher at the Institute of Marine Research (IMR), situated in Bergen, Norway. She holds a PhD from the University of Bergen and has been working since 2015 as a researcher in the research group of Feed and Nutrition at IMR. Her research topic is fish nutrition, especially focused on how different oil compositions in the feed affect the health of cultured Atlantic salmon. She has special interest in how to make fish feed more sustainable, with focus on dietary design and novel feed ingredients, including work on animal by-products and insects.
---
Hideyoshi Segovia-Uno
Hideyoshi Segovia-Uno has more than 16 years of experience in tilapia production and processing in the USA and LATAM, Currently he is Benchmark Genetics USA Inc. (Spring Genetics) General Manager. He is in charge of overseeing the Breeding Program and Commercial Operations.
Hideyoshi has experience in designing and construction of production and processing systems, as well as in the implementation of good aquaculture practices programs and biosecurity programs in different countries around the world.
Hideyoshi holds Bachelor degree in Aquaculture Engineering from Universidad Autonoma de Guadalajara Mexico and a Specialization in Food Processing Technology from Universidad CentroAmericana Jose Simeon Cañas UCA in El Salvador