Continuing its commitment to sustainable entrepreneurship as a tool for socio-economic development, Ean University —in partnership with the Royal Norwegian Embassy in Colombia, Innovation Norway, Bictia, and ProBogotá — organized the event Sustainable Cities
---
On the 30th of October Bictia, ProBogotá, Ean University, and Innovation Norway, held an event on Sustainable Cities in partnership with the Royal Norwegian Embassy in Colombia. The event seeked to promote sustainability in urban environments with expert guests from both the Norwegian and Colombian private sector.
The speakers presented their experiences and startups that contribute to the development of smarter and greener urban environments.
This event coincided with the celebration of the World Cities Day promoted by the United Nations (UN) and had three main lines of discussion:
Smart Cities: Digital ecosystems for scalable and smart urban solutions.
Environment: Circularity and climate action for resilient and sustainable cities.
Governance: The role of public policy and citizenship.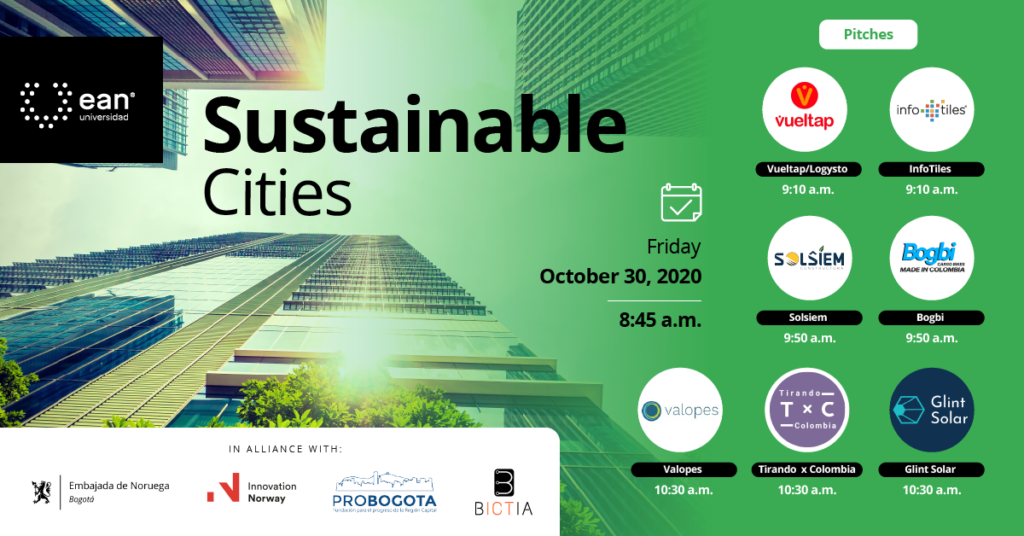 Speakers:
John Petter Opdahl – The Norwegian Ambassador to Colombia
Birgitte Baptiste – Ean University Chancellor
Juan Carlos Pinzón – President of Probogota
Juanita Rodríguez Kattah – Vice Chancellor of Academic Innovation
Gunnar Crawford – CEO of Stavanger Smartcities
Gilca Palma – Director of I+D+I Stormgeo
Johnny Alexander Gunneng – CEO of InfoTiles
Jeronimo Silva – CEO of Bictia